Philerimos & the Palace of the Knights
Land tour code: RHO-02
Cruise port: Greece - Dodecanese islands - Rhodes
Duration: Half day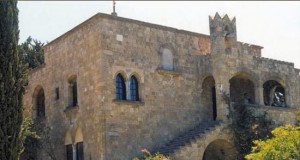 Rhodes, as a travel destination is ideal as much for its recreational tourism as for its religious and archaeological tourism.
The Acropolis of ancient Rhodes stands proudly on the hill of St. Stephanos, also called Monte Smith; there, you will wander through the ruins of the Hellenistic Temple of Apollo. Further below, the restored Ancient Stadium of Diagoras once hosted games in honour of the sun god Helios.
The drive continues across the island to Philerimos, one of the great tourist attractions of the island. The summit of Philerimos was the site of Ialysos, one of the three ancient cities of Rhodes. Stone steps surrounded by cypresses lead to the Gothic Monastery of Our Lady of Philerimos, dedicated to Virgin Mary. In the area you will also visit the Byzantine Church of St. George Hostos, with rare frescoes from the 14th-15th century which depict knights. Here also resides the "Golgotha", a path of 12 copper reliefs which depict the Passion of Christ.
Back to the city of Rhodes where you will stroll through the Street of the Knights -it is a pleasure to stroll the street of the Knights with its medieval buildings, winding alleys, towers, turrets and emblazoned facades- all the way up to the impressive Grand Master's Palace.
REMARKS
: Moderate amount of physical activity is involved, such as walking over uneven surface and climbing stairs. Might not be recommended for passengers with walking difficulties.
The tour Includes visits to religious sites, during which knees and shoulders must be covered.
---