Lindos & Old City of Rhodes
Land tour code: RHO-01
Cruise port: Greece - Dodecanese islands - Rhodes
Duration: Half day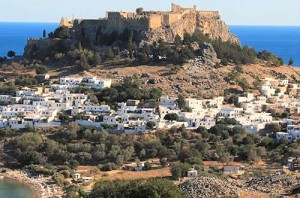 Lindos is situated 55km South from the city of Rhodes; above this picturesque preserved village stands the Acropolis of Lindos, on the top of a precipice 122m above the sea, with the ancient Temple of Athena, built in 300 B.C.
In the village you will come across the captains' mansions, built between the 16th and 18th century and in the centre of the village you may visit the Church of the Virgin Mary (Panagia) of Lindos, with frescoes from the 15th century.
Ascend to the Acropolis and Temple of Athena. Marvel at the breathtaking views covering the great expanse of the Aegean Sea and St. Paul's Bay, where the apostle cast anchor during his historic voyage to Ephesus.
Back at the old city of Rhodes, you will go through D'Amboise Gate to walk on the Street of the Knights. Along this street you will find the residences of the Knights, separated according to Order, which bear until today their corresponding crests.
---