St. John's Monastery & Grotto of the Apocalypse
Land tour code: PAT-01
Cruise port: Greece - Dodecanese islands - Patmos
Duration: Half day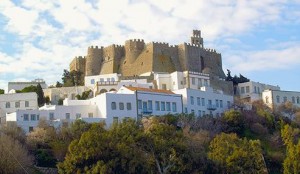 Depart from the port of Scala and enjoy a short drive to the village of Chora, where the Monastery of St. John is built within the walls of a strong fortification. As you walk uphill towards the entrance of the monastery, marvel at this magnificent structure, which was built over 900 years ago. View the courtyard, the monks' dining room and the old bakery before you visit the main church noted for its outstanding frescoes and interior decoration.
Next, visit the small museum, where priceless ecclesiastical treasures, books, manuscripts, mosaics, icons, splendid medieval textiles, vestments and jewellery are housed.
Continue to the nearby Grotto of the Apocalypse. Walk down the steps to the Grotto of the Apocalypse. Here you will see the niches in the wall that mark the pillow and ledge used as a desk by the author of the Book of the Revelation and the crack in the rock made by the voice of God honouring the Holy Trinity.
Afterwards, drive back to the port of Scala and enjoy some free time in this quaint and picturesque town.
REMARKS
: Tour not suitable for passengers with walking difficulties.
The tour includes visit to religious sites, in which knees and shoulders must be covered.
---