Panoramic Ios
Land tour code: IOS-01
Cruise port: Greece - Cyclades islands - Ios
Duration: Half day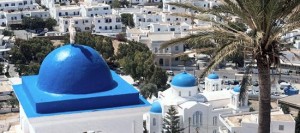 From the port of Ios our bus rolls toward Skarkos, a prehistoric settlement that proves Ios has been inhabited since the early Cycladic period. Skarkos had a modern system for the disposal of rainwater and a sewer system. Its two-storey buildings included stone-built scales, domes, built-in door cases and stone-covered floors. Inside these buildings archaeologists have found metal, bone and stone utensils and tools, as well as earthen pots and containers, evidence of a very complex society. For its exceptional conservation efforts at Skarkos, Ios was one of six European locations awarded the EU Cultural Heritage prize in 2008.
We leave Skarkos for Chora, a typical Cycladic village, where you will enjoy a stunning panoramic view of the harbour. Chora is one of the most picturesque villages in the Cyclades; its bright white buildings line narrow streets and nestle beside twisting staircases. Inaccessible to vehicles, it's a paradise for pedestrians, particularly its main thoroughfare, which is packed with unique boutiques, stylish bars, lively cafés and traditional tavernas.
From Chora we drive to the magnificent Manganari beach. The large bay at Manganari is one of the most famous in the Cyclades thanks to its exquisite beaches. Enchanting Manganari comprises one large and four smaller, idyllic beaches, all of them known for their soft, golden sand and transparent, aquamarine waters. Enjoy a snack in a lovely tavern, or challenge yourself with a variety of water sports, particularly windsurfing. The beaches at Manganari are also perfect for families with children.
---