Kavala (Neapolis) and Philippi
Cruise port: Greece - Kavala
Duration: Half day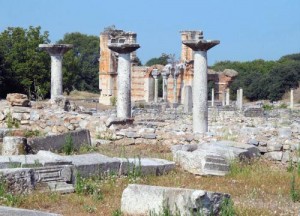 Kavala, the ancient site of Neapolis, founded in the 7th Century BC, is the very same place where St. Paul set foot on the European Continent during his second missionary journey, establishing a thriving Christian church in the nearby city of Philippi. The famous Egnatian road, which once ran from Adriatic Sea to Byzantium (today Constantinople) passed by this city.
Depart the port by motor coach and drive a short distance to see the Aqueduct, built by Suleiman the Magnificent after the Roman style. From here, you will cross the city, giving you the opportunity to pass by the St. Sylas Monastery named after one of St. Paul's companions.
Arrive at the famous city of Philippi, one of the most interesting biblical and historical ancient cities.
The city once known as Krinides, was renamed after King Philip II, father of Alexander the Great. It is the place where Brutus and Cassius were defeated by Mark Antony and Octavian Augustus, granting the City of Philippi a great many privileges. From here, drive a short distance to the Baptistery and the River, where Lydia, the first European convert was baptized. Return to the archaeological site for a guided tour through the excavations, marveling at the upper and lower parts as well as the Forum, the Walls, the two Basilicas and the Theatre. Your guide will also point out the traditional prison, which once held St. Paul and St. Sylas.
Afterwards, meet back up with your motor coach at the specified place and drive back to Kavala with a short stop at the place where a monument stands commemorating the landing of St. Paul in Neapolis.
---