Nemea wine tasting & Nafplio
Land tour code: NAF-02
Cruise port: Greece - Nafplio
Duration: approx. 4.5 hours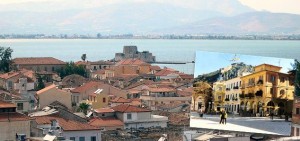 Nemea has been a wine region since ancient times, with vineyards sprawled across its hillsides, plains and plateaus. The first reference to the wine traditions of the Peloponnese was made by Homer, who referred to the area as "Ampeloessa" (full of vines). According to archaeological excavations, wine was first produced in Nemea almost 3500 years ago.
Today Nemea is one of the largest wine making regions of Greece and produces some of its best wines. The prominent grape here is Agiorgitiko, one of the most noble of the Greek red grapes. Agiorgitiko produces wines remarkable for their deep red color and their aromatic complexity.
After our wine tasting, we will return to Nafplion; you will have free time to explore this beautiful port before we return to the ship.
Elegant and architecturally homogenous Nafplio is one of the most beautiful and most romantic towns in Greece. It was the capital of the First Hellenic Republic from 1828 until 1834 and is a palimpsest upon which its many conquerors have written their turbulent stories over the centuries: the Franks, the Venetians and the Ottomans, all contributed to the incomparable mien of this lovely port, which greets its many visitors with its ancient city walls, its castles, its Ottoman fountains, its Venetian houses and its neoclassical mansions.
Plateia Syntagmatos, the lively heart of the city, is much as it was in the 1700's. Other important buildings include two Turkish mosques, the Archaeological Museum of Nafplion, which houses artifacts found in the area from the Prehistoric and Mycenaean eras, and the Municipal Gallery, an arm of the Athens National Gallery. Near downtown you'll find the Church of Agios Spyridonas as well as the Church of Agios Georgios, which is home to a number of important murals, including a copy of Da Vinci's "The Secret Dinner".
---