Mykonos Walking Tour & Mykonian Dinner
Land tour code: MYK-04
Cruise port: Greece - Cyclades islands - Mykonos
Duration: Half day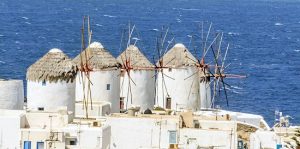 Mykonos is world famous. It is the most cosmopolitan of the Greek islands and attracts many visitors from all over the globe, including large numbers of artists and intellectuals.
The tour starts at "Chora", the capital of the island, where you will enjoy a walking tour in the narrow cobbled streets of the town.
Passing by chic boutiques, elegant nightclubs and white-washed houses we arrive at Kastro, home of the famous Paraportiani Church.
Next to Paraportiani is the Folklore Museum, which is found in an old two-story captain's house. We will visit the museum, which houses interesting costumes, furniture and household items typically found in the island's homes in the late 19th and early 20th centuries alongside jewellery and textiles.
In the event the Folklore Museum is closed, we will visit the Aegean Maritime Museum, which displays scale models of various rowing boats, sailing vessels and steam-powered ships from prehistory through the 20th century.
While in Kastro, we will also visit the smaller chapels of Paraportiani.
We walk from Kastro to Alefkhandra, a charming corner of Hora, known also as the "Venice of Mykonos" or "Little Venice". The houses are built on the sea, with wooden balconies that evoke Venice. These were built from the mid. 18th century onward and were homes of wealthy merchants and captains.
From here we will walk to the windmills for a magnificent sunset and one of the best spots to take photos on this splendid island.
Your stroll through the picturesque little streets of Hora will bring you to a local tavern, where you are welcome to savour the tastes, aromas and essence of genuine Greek spirit through Greek favourite flavours, drinks, music and dances.
---