Ancient Mycenae, ancient Epidaurus & Nafplio
Land tour code: NAF-01
Cruise port: Greece - Nafplio
Duration: approx. 6 hours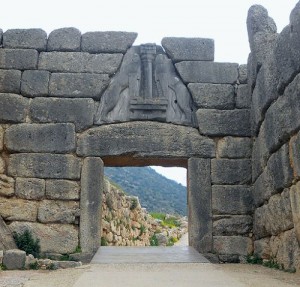 This excursion is a fantastic tour of Mycenae, a fortified Bronze Age Palace, and of Epidaurus, an ancient therapeutic and religious center.
"Well-built Mycenae, rich in gold...", so said Homer of this ancient city, one of the greatest of the Mycenaean civilization that dominated the eastern Mediterranean world from the 15th to the 12th century BC and played a vital role in the development of classical Greek culture; both Mycenae and nearby Tiryns, UNESCO World Heritage sites, are indissolubly linked to The Iliad and The Odyssey. Archaeologist Heinrich Schleimann, who discovered Troy (whose remains became the factual basis for The Iliad and The Odyssey), also discovered this fortified Bronze Age Palace in 1874. One of the earliest examples of sophisticated citadel architecture, it was a hilltop enclave inhabited solely by aristocrats, with artisans and merchants residing outside the city walls. It was abandoned around 1100 BC. You will feel as if you are beginning your own journey to the underworld when you enter the massive Treasury of Atreus, also known as the Tomb of Agamemnon, which dates from the 13th century BC.
We depart from Mycenae for incredible Epidaurus. Famed for its spectacular theater and known throughout the Hellenistic world for its unique medical facilities, the Sanctuary of Epidaurus -also a UNESCO World Heritage site- was a therapeutic and religious center dedicated to Asklepios. Epidaurus was active from the 2nd century BC until at least the 2nd century A.D., when Pausanias, the traveler and historian, spent some time here. Its principal monuments -the temple of Asklepios, the Tholos and the Theatre, which all date from the 4th century BC- are considered as some of the purest masterpieces of Greek architecture. The theater, whose acoustics are extraordinary, was designed by Polykleitos the Younger and is today the most beautiful and best preserved of all of the ancient theaters in Greece: it is marvelously intact and is still used regularly for performances throughout the summer. The Propylaia, the massive gateway to the Askelpieion, still stands at its northern entrance. Visitors will also find sections of the Sacred Way beneath their feet and a Classical stadium: many of its benches are still standing, and its starting line is still visible!
We leave Epidaurus to return to Nafplion, where you will have some time to shop and to stroll about this exquisite city before we return to the ship.
---