Milos, 'Step Back in Time' tour
Land tour code: MIL-02
Cruise port: Greece - Cyclades islands - Milos
Duration: Half day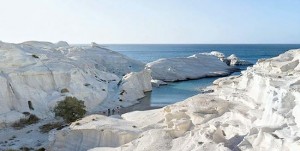 We invite you to step back in time with us on the incredible volcanic island of Milos, one of the most beautiful places on earth.
A short drive from the harbour takes us to Sarakiniko, an inlet of pure white stone sculpted by volcanic eruptions. This startlingly beautiful, otherworldly spot is one of the island's many geological wonders and perhaps one of the most photographed places in the Cyclades. We'll walk down to the inlet so you can experience this one-of-a-kind beach and take photographs.
We continue our drive along the dramatic Milos coastline toward Papafranga, a cluster of deep-sea inlets and sea caves at the base of a pristine ravine which, like Sarakiniko, was shaped by volcanic activity. We'll linger for a short while at this picturesque locale, where you can peer down into clear turquoise waters and watch some rather adventurous tourists swimming and snorkeling in the caves at the bottom of the ravine.
Milos is considered crucial to the pre-history of the Cyclades thanks to Filakopi, our next stop, a settlement dating back to the Neolithic Period (approximately 9000 to 4000 BC). While excavating the site in the late 1890s, British archaeologists discovered implements fashioned from obsidian, a volcanic glass similar to granite. We will tour the site, which is still being excavated, and learn about the history of Filakopi, which remained an active settlement up until 1000 BC.
From Filakopi we travel the picturesque main road along the coast to the cobblestone streets and alleys of Plaka, a classic Cycladic village of white stone houses and bougainvillea flowers 250 meters above the Aegean. We'll stroll through the village to admire its traditional architecture and its stunning view of the sea, and we'll sample some homemade sweets at a few of the village's local pastry shops.
Very close to Plaka, next to Trypiti village, we will visit the ruins of ancient Milos and its Roman amphitheater, which is cut into the rocky slope of the hill near the ancient agora. There you will find large Dorian walls and column fragments. The marble amphitheater,fully restored in 2015, still includes seven intact rows of seats and offers a lovely view of the bay.
On our way back to the bus, we will visit the site where the Venus de Milo (now residing in the Louvre in Paris), was discovered in 1820.
Last stop to the award winning Mining Museum. It's a stop that summarizes all the bits of our "Step back in Time". The mining history of the island, the rich geology and a wide collection of obsidian are displayed allowing you to understand how the rich geology of Milos has shaped the island's history. You will also have a chance to see the materials that are currently excavated from the island and to learn where we find them in our everyday life.
---