Milos Cruise
Land tour code: MIL-06
Cruise port: Greece - Cyclades islands - Milos
Duration: Full day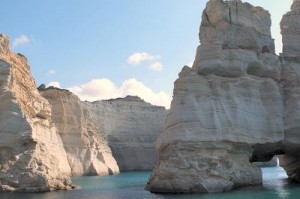 Join us for a thrilling day sailing around Milos on a"trehantiri", a traditional wooden boat used historically in the Aegean for fishing and transporting cargo.
The boat will pick you up at Adamas harbour and begin sailing west. A short while after you leave Adamas sailing west, you will pass the fishing village of Klima and its legendary boathouses, the "syrmata" (meaning "wire"). These houses provide homes to the fishermen and their families while protecting their boats, which are docked or "garaged" beneath each building; the houses are called "syrmata" because the fishermen use wire to pull their boats from the water into the houses.
From Klima we sail toward the sleepless Arkoudes, a rock formation that resembles a mother bear and her cub, who guard the entrance to the harbour.
Travelling north, we pass Cape Vani, whose taunting rocks stand sentinel on the cape beside the cape's old manganese mines, which operated between 1890 and 1920. The remains of the loading bays, which were in use a century ago, can still be seen on shore.
After we turn south, we will stop for a cool, refreshing swim at one of the incredible western beaches of Milos: Kalogries, Agkathia, Triades or Agios Ioannis; our selection will depend on weather conditions and the number of private yachts anchored at these beaches.
After our swim we will continue to the southwest corner of the island for our visit to the famous Sykia Cave, where we will stop briefly so that you can see the entrance of the cave and the small beach inside.
Our next destination is Kleftiko, a unique volcanic landscape and one of the most famous landmarks of Milos. It was a pirate hideout for about 400 years. We will dock here, after a tour of its three bays, so you can enjoy a dip in its crystalline waters. You may use the provided snorkelling equipment and after enjoying the sea, it's time for a BBQ on board, accompanied by fresh salad, tzatziki, local wine and ice-cold beer.
The boat continues east, sailing by the south side of the island, for another refreshing swim at the beach of Gerontas with its impressive arc.
Sailing along by the south side, admiring the ever changing landscape, we reach the beach of Ag.Sostis, where we will disembark via a small tender boat. After 250m of uphill walking, a bus will be waiting to transfer us back to the port of Adamas.
REMARKS
: The schedule of this excursion may have to change without prior warning, if deemed necessary due to the weather conditions or the number of boats anchored at the planned stops; Kleftiko, however, would not be omitted from the itinerary.
In case of strong north winds, there will be an alternative excursion, visiting beaches of the south as well as Kleftiko; in this case, a bus will transfer the passengers to the departure point.
---