Milos, amazing beaches tour
Land tour code: MIL-03
Cruise port: Greece - Cyclades islands - Milos
Duration: Half day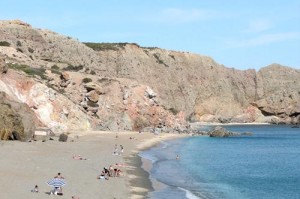 About a 30 minutes drive from the port of Adamas, Paleochori, which actually comprises three beaches totaling 800 meters of sandy coastline, is known for its dramatic cliff faces, the mineral deposits of which, particularly sulphur, have rendered in dazzling reds and yellows.
The main beach at Paleochori is sandy with a smattering of white pebbles and there are some wonderful restaurants and bars perched high above.
After Paleochori we drive to Sarakiniko, an inlet of pure white stone sculpted by volcanic eruptions. This startlingly beautiful, otherworldly spot is one of the island's many geological wonders; you'll feel as if you landed on the moon as we descend for a delightful swim in Sarakiniko's bright turquoise waters.
---