Kusadasi, Ephesus and Miletus
Cruise port: Turkey - Kusadasi (Ephesus)
Duration: Full day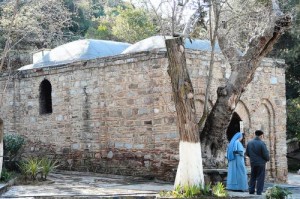 After departure from the Kusadasi port, firstly you will visit the House of Virgin Mary. Located in a nature park between Ephesus and Seljuk, the House of the Virgin is a humble chapel that is believed to be the last residence of Virgin Mary, mother of Jesus. The peaceful site is sacred to both Christians and Muslims, and is visited by many tourists and pilgrims. After the visit, you will attend Mass here.
Your next stop will be the Ancient Ephesus, which was the trade centre of the ancient world as well as a religious centre of the early Christianity. Among others, you will see the Hadrian's, Trajan's and the Domitian's Temples, the huge Roman bath, the Marble Street, the Gate of Mihridates and Mazues, the Commercial Agora, Latrina, the Scolastica Baths, Curetes Street, Polio Fountain, the Prytaneion, the Odeon, the Celcus Library and the biggest amphitheater in Turkey, where St. Paul preached.
Then we will drive to St. John Basilica. It was constructed by Justinian I in the 6th century. It stands over the believed burial site of John the Apostle. It was modeled after the now lost Church of the Holy Apostles in Constantinople.
Next stop will be the Rug Village where there will be time for lunch and shopping. Demonstrations of ceramic and carpet weaving procedures to be seen in the village.
As last, you will visit the Miletus Ancient City, which was considered as the greatest and wealthiest of Greek cities. Miletus, with its magnificent theatre and the Byzantine fortress on the acropolis above, was one of the oldest cities of Ionia, located North of Soke, about 60 km from Kusadasi.
Your tour ends at the Kusadasi port.
REMARKS
: Another similar tour is operated as well, which omits the visit to the House of Virgin Mary and puts more emphasis on the visit to the ancient city of Ephesus
---