Kos – Asklepion, Zia & the Platane of Hippocrates
Land tour code: KOS-01
Cruise port: Greece - Dodecanese islands - Kos
Duration: Half day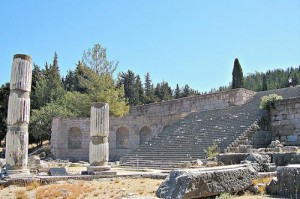 We start this excursion just outside Kos Town with a visit to the Asklepion, built in the 4th century BC, as a health and healing centre and its Doric temple dedicated to Asklepios, son of Apollo and the god of healing. This is where Hippocrates, the father of medicine, developed and practised many of the healing methods we still use today.
We depart from the Asklepion for the lovely mountain village of Zia, where a spectacular panoramic view of Kos and a number of traditional cafés and tavernas await you. Zia is fast becoming popular with local artists and craftspeople, and you'll find unique, handmade art and crafts on sale throughout the village. This is also a great place to try the diverse local herbs grown near Zia and used in Greek gastronomy, and thyme honey. While strolling in the village, make sure to visit its picturesque cathedral.
We drive to Kos Town to visit the Odeon, the Roman theater which was discovered in 1929 and subsequently excavated. The theater, built during the second and third centuries, still retains its original seating. Across from the Odeon is another important archaeological site, the Nymphaeum (the Roman baths) and the Xysto (the Gymnasium), where we will tour Roman and Hellenistic ruins.
We walk through Kos Town and stop at the Plane (Platanos) tree of Hippocrates, near the Knights' Castle at the harbour. It is said that Hippocrates instructed his students under this very tree more than 2500 years ago. We walk through Kos Town to its main square where you have free time until you return to the ship.
---