Minoan Palace of Knossos
Land tour code: HER-02
Cruise port: Greece - Crete - Heraklion
Duration: Half day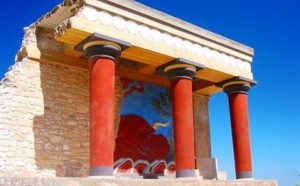 Crete is the largest and the most rugged of the Greek islands. It is also the home of the great Minoan Civilization and the mythological birthplace of Zeus.
After a short drive through the town of Heraklion the tour will arrive at the Knossos excavations. The first excavations begun in 1878 by the Heraklian Minos Kalokairinos. Later (1900-1913 & 1922-1930) the excavations by the British Sir Arthur Evans were to complete the scientific research, bringing to light the Minoan palace in its entirety, which was, according to tradition, the residence of the wise King Minos.
The ancient city of Knossos, which has had constant habitation from the Neolithic era until the 5th century A.D., is beyond doubt the land that gave birth to the first civilization of Europe, the Minoans. Your guide will lead you on a journey of discovery to learn of the sophisticated culture that flourished thousands of years ago on this island. The palace of Knossos spreads around the large Central Court. You will reach the awe inspiring Throne Room, the fresco of the "Prince of the Lilies", the imposing Grand Staircase, the Queen's Megaron in the east.
We will stop in Heraklion on the way back to the ship.
REMARKS
: Walking in the archaeological site of Knossos will be on uneven gravel surfaces.
Passengers may not be allowed to enter the site with big bags/rucksacks.
---