Knossos Palace & the Archaeological Museum
Land tour code: HER-01
Cruise port: Greece - Crete - Heraklion
Duration: Half day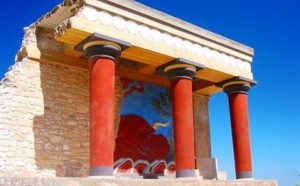 The ancient city of Knossos, with constant habitation from the Neolithic era until the 5th century A.D., is beyond doubt the land that "gave birth" to the first civilization of Europe, the Minoans.
The first excavations were begun in 1878 by the Heraklian Minos Kalokairinos. A bit later (1900-1913 & 1922-1930) the excavations by the British Sir Arthur Evans were to complete the scientific research, bringing to light the Minoan palace in its entirety, which was, according to tradition, the residence of the wise King Minos.
The palace of Knossos spreads around the large Central Court. You will reach the awe inspiring Throne Room, the fresco of the "Prince of the Lilies", the imposing Grand Staircase, the Queen's Megaron in the east.
Walking through the apartments of the Knossos palace and observing the finds even as passers-by, you will feel part of this cultural heritage.
Our next stop will be at the Archaeological Museum of the city of Heraklion. Through the exhibits of the Museum, the history of the Cretan culture will unfold and be visualized before you.
The tour will come to an end at Heraklion, where we will stop on the way back to the ship. Heraklion was founded in 824 and is an important homeland of many contributors to Literature and Art, some examples of which are the Nobel winning poet Odysseas Elytis, the Renaissance painter Domenikos Theotokopoulos (El Greco) and the writer Nikos Kazantzakis.
Heraklion is also endowed with some wonderful edifices: the "Koules" fortress, the award winning Venetian structure of the Loggia, the Morosini Fountain, the Basilica of Saint Mark, the Church of Agios Titos, the medieval monastery of Saint Catherine, the Cathedral of Agios Minas are some exceptional examples.
Starting the walk from Liberty square of Heraklion guests will pass by the shopping streets of Dedalou and 25th August and see the aforementioned sights along the way.
---