The Minoan Palace of Knossos & Heraklion
Land tour code: AGH-06
Cruise port: Greece - Crete - Agios Nikolaos
Duration: Half day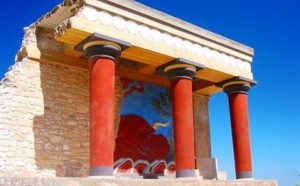 We travel by air-conditioned bus to the Minoan Palace of Knossos. Knossos, the capital of the Minoan civilization, was the first civilization in Europe.
The Minoan civilization, which endured for about 2000 years, was one of the most advanced in the ancient world, and Knossos is one of the instances in which Greek mythology might dovetail with archaeological fact. Minos, a legendary king and lawgiver of Crete, was one of Europa's three sons, all born after her tryst with Zeus, who appeared to Europa as a white bull and carried her off to Crete. The frescoed Palace at Knossos, which comprises more than 1500 rooms and occupies more than 20000 square meters, may have been the mythical labyrinth designed by Daedalus wherein Minos imprisoned the Minotaur, a monstrous half-bull, half man born to his wife, Pasiphaë, who was impregnated by a bull sent by Poseidon.
We depart from Knossos to bustling Heraklion, a busy metropolitan port and the capital of Crete, the city of Hercules and the resting place of Nikos Kazantzakis, Crete's most famous son and the author of "Zorba the Greek". Within the Venetian walls of Heraklion you'll find unique shops and many lively cafés.
REMARKS
: Moderate amount of physical activity, such as walking over uneven surface and climbing stairs, is involved: this tour might not be recommended for passengers with walking difficulties.
---