Day out in Milos
Land tour code: MIL-04
Cruise port: Greece - Cyclades islands - Milos
Duration: Half day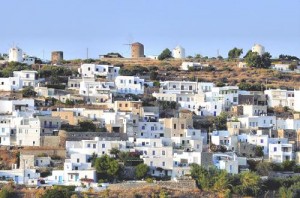 The air-conditioned bus picks you up at the port of Adamas for a grand day out.
We begin in the picturesque village of Tripiti, which is perched on a ridge above the sea. After the abandonment of Filakopi in 1100 BC, Tripiti, at that time known as Milos, became the capital of the island, and both Tripiti and its port, Klima, on the coast below the village, were inhabited during the Geometric, Classical, Hellenistic, Roman and Byzantine periods. Nearby lie the early Christian catacombs, the largest in Greece, the ruins of ancient Milos, where you'll find large Dorian walls and column fragments, and the Roman amphitheatre, which is cut into the rocky slope of the hill near the ancient agora. We will also visit the site where the Venus de Milo was discovered in 1820 (the statue now resides in the Louvre in Paris).
From Tripiti it's only ten minutes to the cobblestone streets of Plaka, a classic Cycladic village of white stone houses and bougainvillea flowers 250 meters above the Aegean. We will stroll through the village to admire its traditional architecture and its stunning view of the sea, particularly from the courtyard of the Korfiatsa Church. We will also sample some homemade sweets at a few of the village's local pastry shops.
Our grand day out continues as we make the short drive east to Sarakiniko, an inlet of pure white stone sculpted by volcanic eruptions. This startlingly beautiful, otherworldly spot is one of the island's many geological wonders and perhaps one of the most photographed places in the Cyclades.
From Sarakiniko we continue on to our last stop, Pollonia, known for its lovely Tamarisk-shaded sandy beach. Pollonia is beloved of water sports enthusiasts, particularly windsurfers and divers. We will enjoy a swim here, and there will be time for a snack in one of the traditional coffee houses or tavernas along Pollonia's picturesque waterfront before we conclude our grand day out with a short, scenic drive back to the port at Adamas.
---