Chios Town & Kambos
Land tour code: CHI-04
Cruise port: Greece - Chios
Duration: Half day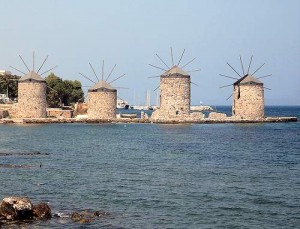 Chios Town, the capital of Chios, has always been and the island's commercial and cultural centre. Its castle -built by the Genoese during their occupation of the island between the 12th and 14th centuries- looks out toward the harbour. Our tour takes you on a walk through the narrow streets of the fortress, past the old Turkish graveyard and the mosque.
We will also visit the Giustiniani Museum, the former home of the island's governors, where you will find unique icons and frescoes dating from the 14th century.
Our tour takes you through the central square of Chios Town and through its public gardens. From there we stroll down the town's main market street, past the cathedral and the Korais Library.
We return to the harbour and drive north for a short photo stop at the famous windmills of Chios. From the windmills we journey to Daskalopetra ("Teacher's Stone"), where, according to local legend, Homer narrated his poems and taught his students; Chios is one of seven places claiming to be the birthplace of the legendary blind poet of antiquity.
We drive from Daskalopetra toward the orange and lemon plantations approximately 7 kilometres south of Chios Town, to the village of Kambos, the island's centre of citrus production. The two-storey mansions of Kambos -which are distinctive for their high, frescoed ceilings, large windows and expansive verandas- were built amongst the plantations by the Genoese and wealthy Chians of the period.
The Xydas family operates a small café and citrus museum on one of these grand estates. Visitors to the museum can study the history of the people of Kambos and see authentic tools used in the cultivation of the areas lemon and orange trees. After your visit to the museum, enjoy a Greek coffee and a locally-made spoon sweet in the courtyard of the estate.
---