Chios, Mesta & Anavatos villages
Land tour code: CHI-05
Cruise port: Greece - Chios
Duration: Half day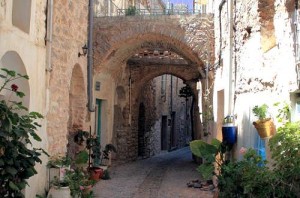 The village of Mesta is the most distant of the medieval villages but it is also the most well-preserved.
The form and architecture here is totally unique. The houses are build side-by-side to each other, so tightly that there are only two entrances to the village! The streets are very narrow and most of them are covered with arches and vaults. The whole village has been intentionally planned and built as a maze, in order to prevent the pirate raiding parties from reaching easily the most important buildings, which were located in the centre of the village. The oldest monument of Mesta is the church of Palaios Taxiarchis on the north-west part. It was originally a vaulted one-nave basilica, dating from the Byzantine period. In 1794 it was extended to become two-aisled. Some traces of old wall paintings can be seen, although most of them have been covered with plaster. The iconostasis of the church is carved in wood and is an excellent example of local woodwork (finished in 1833).
About 17 kilometres West from the city of Chios is the village of Anavatos. It is built on a rocky elevation with sides so steep it can only be approached from one point. The natural defences of the site make it probable it was originally founded to control the island's west coast during the period of piracy. The village is now completely deserted, but the overall shape of the settlement is quite well-preserved to give a unique picture of a ghost town surrounded by a wild and rough natural environment.
---