Chios, Anavatos & Nea Moni
Land tour code: CHI-02
Cruise port: Greece - Chios
Duration: Half day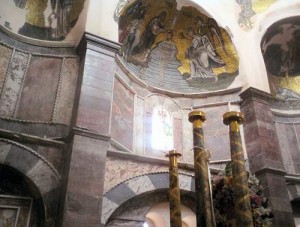 We leave the port of Chios and travel the panoramic road that climbs the foothills of Mount Provatas to the center of the island to tour "Nea Moni" monastery, one of the most famous structures of the Byzantine period. The main church is an important example of Byzantine architecture in the Aegean - its catholicon is decorated with spectacular mosaics which are famed the world over as the pinnacle of this art form. The Cistern, which dates from the 11th century, is still intact and has also been lovingly preserved.
Nea Moni was founded by Byzantine emperor Constantine IX Monomachos in the middle of the 11th century and was, for many centuries, the religious centre of Chios until its near-destruction in the 19th century. In 1822, during the Greek War for Independence, many Chians took refuge in the monastery, where they were ultimately slaughtered. Later, in 1881, an earthquake brought about the collapse of the dome and the bell tower as well as the destruction of many mosaics.
The "ghost town" village of Anavatos is built on a hillside 450 meters above the sea. The exterior walls of many of its 400 houses are part of its perimeter fortification. Within the walls, its small structures are an architectural marvel, narrow constructions of gray stone with flat wooden roofs, low doors, tiny arched windows and wooden terraces. Following our tour of Anavatos we will enjoy a coffee break at a small café in the village before our return to Chios harbour.
REMARKS
: This tour might not be recommended for passengers with walking difficulties.
---