Bodrum, 'A Twist of Moonlight' tour
Land tour code: BOD-03
Cruise port: Turkey - Bodrum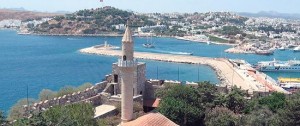 Known in antiquity as Halicarnassus, Bodrum, once a small fishing village, has been described as the St. Tropez of Turkey, thanks to its pristine beaches and stellar nightlife; celebrities anchor their yachts here throughout the summer.
Halicarnassus was the birthplace of Herodotus, the Father of History, who was born here in 484 BC. Homer called this exquisite peninsula "the land of the eternal blue". It is also the land of the eternal bargain, which you might find in its many flea markets and colourful bazaars.
Our moonlight cruise on a private sailboat will take you deep into the eternal, romantic blue along the Bodrum coast, home to tranquil harbours and magical bays. As night falls, savour the richness of Turkish culture with a performance by local belly-dancers and delicious cocktails served with a twist of moonlit.
---