The Acropolis hill & the Acropolis Museum
Land tour code: PIR-08
Cruise port: Greece - Athens - Piraeus
Duration: Half day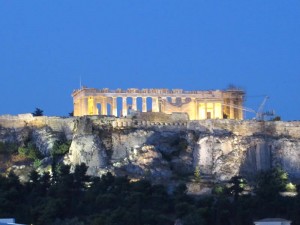 The historical hill of the Acropolis carries the renowned Parthenon atop its shoulders, which is dedicated to the goddess Athena, protector of the city of Athens. Its inauguration took place in 438 B.C. at the Great Panathenaea.
Next to the Propylaea lies the temple of Athena Nike or Wingless Nike. There was kept the wooden statue (xoanon) of Athena which was "wingless", signifying that she would never leave Athens. Next to the temple of Parthenon rises the Erechtheion, a marble edifice of the Ionic order: the eastern part of the temple was dedicated to Athena Polias and the western to Poseidon-Erechtheus. From the Acropolis hill, you will be able to admire the glorious Odeon of Herodes Atticus.
Our next destination is the modern, imposing, bright Acropolis Museum. It is a thematic archaeological museum of exceptional aesthetics, which opened its doors to the public in 2009 and houses the most famous works of classical antiquity. The new Acropolis Museum makes use of the elements of light, motion and multiple levels and its collections are exhibited on 3 floors and in an area of 14,000 sq. m (150,000 sq. ft).
Leaving the area of Acropolis, you will pass by the Tomb of the Unknown Soldier in front of the Greek Parliament Building. A stop at the Panathenaic Stadium, where the first modern Olympic Games were held in 1896, is necessary. Next follows the stylish "Trilogy of Athens", which was constructed at the end of the 19th century: the old building of the University of Athens, the National Library and the Academy of Athens. The excursion comes to an end with a trip through the Squares of Omonia and Syntagma, the heart of modern Athens.
REMARKS
:
This tour is available only to passengers who are not embarking or disembarking in Piraeus.
---