Athens City Tour and Acropolis
Land tour code: PIR-01
Cruise port: Greece - Athens - Piraeus
Duration: Half day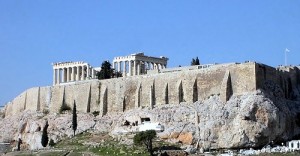 On arrival in Athens you visit the Acropolis, on which stands the Parthenon, the symbol of classical architecture.
The entrance to the top of the hill is through the Propylea, the "gates" through which the Panathinea processions used to enter; built totally of white marble they cover an area of 50m. across the whole western face of the Acropolis.
Next to them is the temple of Athena Niki also known as the "Wingless Victory". There was kept the wooden statue ("xoanon") of Athena which was "wingless", signifying that she would never leave Athens.
The Parthenon is the main temple, built in honour of goddess Athena. Her statue decorated the centre of the temple and it was made of ivory and gold.
Next to the Parthenon is the smaller Temple of Erechthion with lovely sculptured young maidens (the famous "Karyatides") supporting the roof of the porch.
From the top of the Acropolis you can admire the ancient theatre of Herodes Atticus well known for its remarkable acoustics. Performances are still held here each summer being the highlight of cultural events in the Eastern Mediterranean.
Leaving the Acropolis the tour takes you by the tomb of the Unknown Soldier at Syntagma Square -guarded by the "evzones" dressed in their traditional costume-, by the Parliament and the Panathinaikon Stadium, where the first Olympics of modern times were held in 1896; the entire stadium is built of pure white marble. Your drive continues by the Library - the Academy - the University (the "Neoclassical Trilogy" of Athens), three buildings representing 19th century architecture blended with the classical influence.
REMARKS
:
This tour is available only to passengers who are not embarking or disembarking in Piraeus.
The visit to the Acropolis involves approximately 80 steep steps.
Passengers may not be allowed to enter the site with big bags/rucksacks.
---