Izmir, tour to Ancient Ephesus & the Terrace Houses
Land tour code: ISM-07
Cruise port: Turkey - Izmir (Smyrna)
Duration: approx. 4hours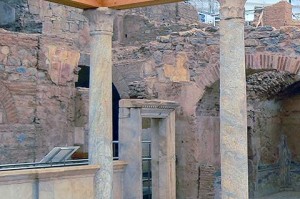 Passing with your tour guide through the Magnesian Gate you will wander, feeling awe in time and space, through the Agora, the Odeon, the Library of Celsus, the marble-paved main Street of Kouretes, the Baths of Scholastica, the Great Theatre, Trajan's Fountain, the Public Latrines, the Houses of the Patricians, the Prytaneum and the Temple of Hadrian.
Opposite Hadrian's Temple, at the covered part of the archaeological site, protected by the heat and natural elements lie the Houses of Koressus or Terrace Houses. Here lived the rich families of Ancient Ephesus and you will be surprised by the excellent state of preservation of these comfortable villas, especially their interior décor. The oldest unearthed houses date since the 1st century B.C. and were two-storied and they even had heating as well as hot and cold water.
The excursion ends at Kusadasi with the colorful Covered Bazaar and the little shops brimming with the jovial energy of bargaining.
REMARKS
: Moderate amount of physical activity such as walking over uneven surface and climbing stairs. Might not be recommended for passengers with walking difficulties.
---