Izmir, tour to Ancient Ephesus
Land tour code: ISM-03
Cruise port: Turkey - Izmir (Smyrna)
Duration: approx. 3 hours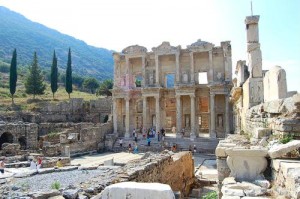 At the archaeological site of Ancient Ephesus one finds immortal relics of the Hellenistic, Roman and Early Christian era. During this guided tour you will visit among others the Agora, the Odeon, the Library of Celsus, the marble-paved main Street of Kouretes, the Baths of Scholastica, Trajan's Fountain, the Public Latrines, the Residences of the Patricians, the Prytaneum, the Temple of Hadrian as well as the Great Theatre, which was built in the 4th century B.C., could accommodate 24000 spectators and it is famous even nowadays for its acoustics.
The finds from the excavations, which have yet brought to light only 13% of ancient Ephesus, reside in the Archaeological Museum of Ephesus, in the city of Selcuk.
Your day couldn't close in a better way than a beautiful walk through the Covered Bazaar in Kusadasi. Here, you will be able to ramble, bargain for jewellery, cosmetics or leather products at the little shops.
REMARKS
: Tour not suitable for passengers with walking difficulties.
---