Ancient Ephesus through the ages – Hellenistic and Roman
Land tour code: KUS-02
Cruise port: Turkey - Kusadasi (Ephesus)
Duration: Half day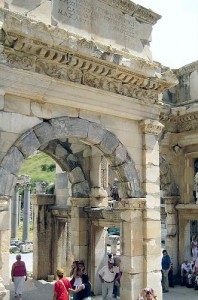 Drive through the colourful town of Kusadasi and along the coast to reach Ancient Ephesus, famous in antiquity for its Temple of Diana - one of the Seven Wonders of the Ancient World - and later the home of St. John. During the years of the Roman Empire, the Greek port of Ephesus became the greatest city in Asia Minor.
At Ancient Ephesus you find Immortal relics of the Hellenistic, Roman and Early Christian era. Upon arrival at Ephesus follow your guide to enter the ancient site through the Magnesian Gate. Discover innumerable monuments including the Forum, the Odeon, the Library of Celsus, the Thermal Baths of Scolastika and the Great Theatre built in the Greek Era and reconstructed in the Roman period, which is still noted for its remarkable acoustics. View the symbols all around and marvel at the fact that one is still able to read the inscriptions in the ancient Greek language. Walk back to your coach along the Arcadian Way, where once Mark Anthony and Cleopatra rode in procession.
During the excursion you will have the opportunity to do some shopping such as carpets, jewelry, leather and other souvenirs.
REMARKS
: Tour not suitable for passengers with walking difficulties.
---