Accommodation (hotels, apartments, studios, villas) on the island of Naxos:
---
Nissaki Beach Hotel - Cat. C' sup. - Agios Georgios
A lovely looking hotel in Cycladic architecture enjoys a prime position right at the northern end of the long sandy beach of Aghios Georgios and about 5min. walk from the centre of Naxos town. Excellent for beach holidays with a friendly atmosphere. The public areas comprise reception with safes, breakfast area (buffet breakfast) and bar, cafe, swimming pool, as well as a restaurant under the pine trees by the sea. Twin or double bedded rooms are simple yet comfortable with private SH/WC, A/C, TV, music, direct-dial phone, balcony or patio (private in some of them). Some have view to the pool and very few to the sea. Daily cleaning, change of linen every 4 days. Very convenient for family vacations too -baby cot and children's chairs on request-, being 20 m from the not so crowded beach with its shallow water, and on a relatively quiet location.
Top - Pictures & Maps of Naxos - Request Form
---
Fikas Hotel - Cat. C' - Agios Georgios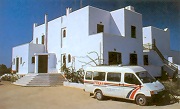 In the southern outskirts of Naxos Town,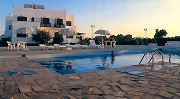 Fikas Hotel benefits from a very quiet location, while being only 10min. away from the city centre and 200m from the beach of Aghios Georgios. It is a nice and very friendly hotel, ideal for relaxation. General facilities include a reception/TV lounge area, safe boxes, breakfast room, café, and a large pool, all public areas being decorated with well-kept small flower beds. There are wide-open areas for the children to play (no special playground facilities). All rooms have private facilities, TV, direct-dial phone, private balcony with sea or mountain view. Pets (well trained) are welcome.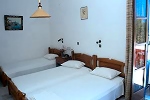 Top - Pictures & Maps of Naxos - Request Form
---
Iria Beach Hotel/Apartments - Cat. C' - Aghia Anna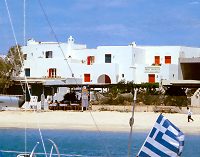 A beautifully simple hotel of Cycladic architecture, on the beach of Aghia Anna. It consists of 28 spacious studios (for up to 4 persons)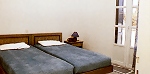 and 2-room apartments (bedroom and separate kitchen with folding sofa for 2 persons), i.e. up to 5 persons can be accommodated. The rooms are simply but tastefully decorated, all having private facilities, kitchenette, refrigerator, direct-dial phone and balcony or veranda with view to the sea. The hotel has a small lobby/reception area, and one has access to the different 2-storey buildings by the small rear courtyard, full of flowers and trees, paved with traditional stones and marble. The charming restaurant of the hotel is situated just in front of it, by the sea. In general, Iria Beach is a cosy, friendly hotel, ideal for guests seeking holidays by the beach in simple and elegant self-catering accommodation.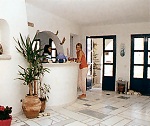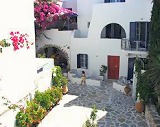 Top - Pictures & Maps of Naxos - Request Form
---
Birikos Studios/Apartments - Cat. C' - Aghios Prokopios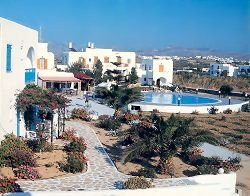 A well run complex in the very popular area of Aghios Prokopios, approx. 150m to the beach and resort centre with all services, 6klm to Naxos town, connected with a frequent bus service.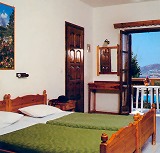 To the front there is a pretty, spacious garden, next to which there is a big swimming pool, and the small reception with an outdoors breakfast area covered with a pergola. The complex consists of 8 spacious studios for up to three adults or two adults and two - at most - children, who will sleep on a rather large sofa bed, and of 8 apartments: 1 bedroom and the kitchen/living room with a sofa bed; some of the apartments, apart for the fully equipped kitchenette and refrigerator, also have an oven. There is also an apartment having the kitchen (sofa bed, cooking facilities with oven) on the ground floor and a double bed on a loft, accessible by a wooden staircase; this apartment is reserved for honeymooners, but is also suitable for families. All rooms have direct-dial phone, private SH/WC, balcony or patio. There are also a few rooms, which are rather easily accessible for guests with kinetic disabilities.
Top - Pictures & Maps of Naxos - Request Form
---
---
Accommodation (hotels, apartments, studios, villas) on the island of Naxos:
---
Copyright © 2001-14 Dolphin
Hellas
S.A. Travel & Tourism


Dolphin Hellas
Greek travel agency
:
16, Syngrou Avenue

-

11742

Athens

,

Attica,

Greece
| Tel:
+30-210-9227772