One Day Cruise from Athens
Discounted price:
from EUR 84,15 (lunch on board included)
Full day cruise

Nov.'13-Mar.'14:

Mon. Tue. Wed. Thu. Fri. Sat. Sun.

Apr. '14-Oct.'14:

Mon. Tue. Wed. Thu. Fri. Sat. Sun.
Tour map
Tour program
The cruise departs at 8:00 am
and returns at 7:00 pm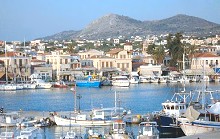 Highlights: Participants are picked up from their hotel in Athens and transferred to the port.
The cruise boat stops at three islands of the Saronic Gulf:
Aegina, which is famous for its peanuts and the beautiful temple of Athina Afaia (optional tour);
Hydra, the beloved island of all painters, with its beautiful houses, all in pastel colours, perched up on the rocks, and its long history - it played a leading role during the War of Independence;
Poros, a pretty little island that has also contributed a lot in the liberation.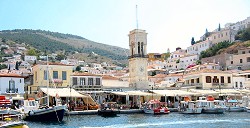 There are 3 vessels performing this cruise, the "Platytera", the "Aegean Glory" and the "Kassandra Delphinous". On the "Aegean Glory" there is a small plunge pool with seawater available and in addition a VIP section is offered where free drinks are served all day, the exclusive use of the highest sun deck is secured and no more than 30 passengers per day are taken. On Kassandra Delphinous there's the option of an early breakfast on board at an extra charge.
Tip: it is possible to spend the night on one of the islands
and continue your cruise the next day!