IMPORTANT: This page is no longer maintained and the information contained is no longer valid.
The Governor's House in Paxi
Near Gaios area, on Paxi island, Greece



Description of the property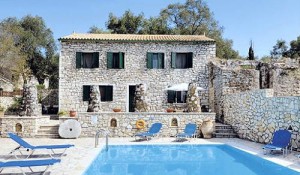 The Governor's House is hidden amongst the hillside olive groves of the hamlet of Geromonachos, overlooking the east coast, 2kms away from Gaios.
The hamlet contains large stone houses dating back to the late 18th century but only the Governor's House and two other houses have since been renovated. The house was once the residence of the British Governor during the early 18th century British possession of the Ionian islands.
The location is peaceful and car rental is suggested. Views are over silver olives and across the sea to the mainland. The east coast, with its many beaches, is just one kilometre away. A hired boat can be moored in Gaios harbour, a 10 minutes drive.
Accommodation/Facilities of the house:
Ground floor: open-plan sitting room | Dining area & kitchen | Bathroom with shower.
First floor: One double bedroom, en suite bathroom with shower | Two twin bedrooms | Bathroom with shower.
Air-conditioning in two bedrooms | Ceiling fans in one bedroom | TV | DVD & CD player | iPod docking station | Barbecue.
The dimensions of the private pool are 10 x 5 metres and has a depth of 0,7 – 1,7 metres.
Location on the Paxi map
- Minimum 1 week rental, from Monday to Monday (May - October) -
---
---