IMPORTANT
:
This page is no longer maintained and the information contained is no longer valid.
For updated information please refer to the tours main page.
Athens Walking Food tour
Half day tour

Nov.2017-Mar.2018:

N/A

Apr.2018-Oct.2018:

Mon. Tue. Wed. Thu. Fri. Sat.
Not available in August
Tour program
Meeting with your guide: at Korai street at 10:00am
End of tour: 1:30pm
Each food walking tour includes mouth watering food tastings from the various specialty- and food-shops that we will pass along the way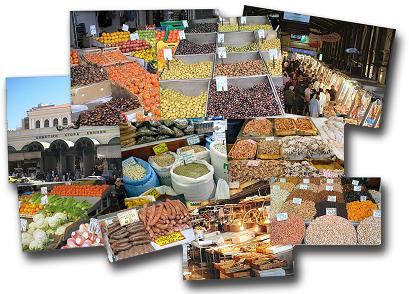 on a different "off-the-beaten-path" gastronomical route around central Athens; a tour you surely do not want to miss while you are in Athens.
Join us to embark on a gastronomical journey through some of the original and historical neighbourhoods of Athens. We meet at the Korai street where the tour begins. An array of colours, sights and sounds engulf the visitor and, at once, activate the senses. Along the way you will see fruit and spice stalls, colourful and enticing delicatessens, aromatic and tempting bakeries and sweet shops and of course the famous food market of Athens.
We will expertly guide and explain things to you en route and provide valuable insight not only about the unique and intricate culinary heritage of the Greeks but also of the cuisine we have all come to know as Mediterranean.
---
---
With a total of 2 customer reviews,
the "Athens Walking Food tour"
is rated 5 out of 5,
based on 2 customer ratings.