IMPORTANT
:
This page is no longer maintained and the information contained is no longer valid.
For updated information please refer to the tours main page.
Ancient Corinth and wine tasting tour
Discounted price:
EUR 81,90
Half day tour

Nov.2016-Mar.2017:

N/A

Apr.2017-Oct.2017:

Fri.
Tour map
Tour program
Departure from Athens: 8:30 am
Return in Athens: 3:30 pm
Highlights: Greece may well possess first place in the hierarchy of countries known for their tradition in viticulture.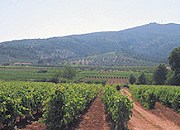 Not only is this due to Greeks producing wine since the Neolithic Age - 4000 B.C. - but also to the fact that wine has long been adored, praised and chanted in the name of god Dionysus. Nowadays, Greek wine production, abiding by tradition but invigorated by modem technology, offers a wide variety of fine wines.
Driving along the coastal road, we reach Corinth canal (short stop). Drive to Ancient Corinth where St. Paul lived and preached. Ancient Corinth was one of the most important cities of ancient Greece. We will visit the Agora and one of the most outstanding monuments of pre–Roman period, the temple of Apollo. Then, we will continue to visit one of the most famous vineries of Nemea.
Nemea is one of the most popular vineyards in Greece. We will visit the state of the art winery facilities. We will learn everything for the production of Greek quality red wine and then we will proceed to the underground cellars with more than 1000 French oak barriques. Finally we will taste some of the best wines of the domain.
---
---