Franz Lehár, The Merry Widow
2013 May

10

, 11

, 12

, 15

, 17

, 19

, 22

, 24

, 25

, 26




Athens, Olympia Theatre
Franz Lehár, Die Lustige Witwe (The Merry Widow).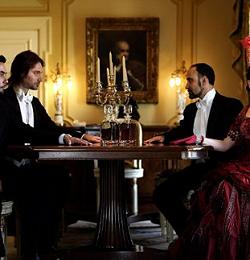 Conductors: Georgios Vranos & Zoi Tsokanou.
Director: Dimitris Lignadis.
Libretto adaptation & editing: Dimitris Lignadis.
Sets-costumes: Eva Nathena.
Choreography revival: Fotis Diamantopoulos.
Lighting: Nikos Ergazakis.
Chorus master: Agathangelos Georgakatos.
With the Orchestra, Chorus & Ballet of the Greek National Opera.
The work is presented in Greek.